Fixing Your Radon Problem . . .
We at Granite Inspection Group are locally owned, operated and the Hudson Valley's most preferred radon testing, measurement, diagnostics and mitigation professionals who specialize in radon mitigation services in air and water. We are licensed and certified by the NYS Department of Health (NYSDOH), National Radon Safety Board (NRSB) and the American Association of Radon Scientists and Technologists (AARST) to perform radon mitigation services.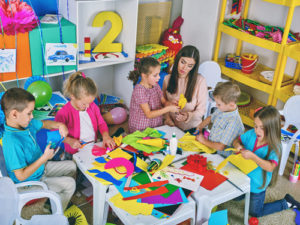 Our radon mitigation services are utilized by a variety of clients consisting of home owners, sellers, realtors, mortgage companies, banks, architect, engineers, estate owners, apartment owners, property managers, first time buyers, investors, schools and daycares to name a few. 
We specialize in single family / Residential Mitigation (RMT) for condo's, town houses and standard single-family homes. Multifamily Mitigation (MFMT), for two or more family dwellings and apartment buildings. Radon mitigation for Schools and Large buildings (RMSLB), daycares, hospital, commercial buildings, as well as Radon Resistance New Construction Mitigation (RRNC).
Our services are utilized by many professional organizations and programs like Housing and Urban Development (HUD), Veteran Administration (VA), Federal Housing Authority (FHA) and other profit and non-profit organizations.
We are their preferred choice in servicing and resolving their Radon in air and Radon In water environmental needs.
My radon level is 4.0 pCi/L or higher…. Can Granite Inspection Group fix my radon?
Absolutely! When a building or house is found to have an elevated level of radon gas, as defined by the U.S. Environmental Protection Agency a radon result of 4.0 piC/L or higher, numerous methods of reducing the radon levels can be applied to resolve the problem. The most common method of radon reduction, also known as radon remediation, radon gas abatement or radon mitigation, is an Active Soil Depressurization System (ASDS) or Sub Slab Soil Depressurization System (SSSDS). Hundreds of thousands of homes have already been mitigated to reduce the radon levels. Even extremely high levels of radon can be effectively mitigated. Most Active Soil Depressurization mitigation systems can reduce the radon gas entry by as much as 99.9%.
What is a mitigation system?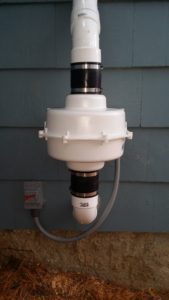 A variety of effective methods can be used to reduce radon in buildings. Sealing cracks and other openings in the foundation is a basic part of most approaches to reducing radon. However, the EPA does not recommend the use of sealing alone to limit radon entry. Sealing alone has not been shown to lower radon levels significantly or consistently. In most cases, the typical approach is an Active Soil Depressurization System (ASDS), which utilizes a radon mitigation suction fan to pull the gas out from below the foundation of the building.  These systems work by changing the pressure below the building by rerouting the gas to the exterior of the building.
These "Sub-Slab Depressurization" systems do not require major changes to your building. Similar systems can also be installed in buildings with crawl spaces. These systems prevent radon gas from entering the building from below the concrete floor and from outside the foundation. 
Another possible choice may be a Heat Recovery Ventilator (HRV) Or an Energy Recovery Ventilation (ERV). Which is a system designed to consistently ventilate and create air changes and may work alone or in conjunction with other systems. The right system depends on the design of your building and many other factors.
All systems are specifically designed and installed for the individual building and the owner's needs. The following is a sample of a few typical designs.
Active Soil Depressurization System (ASDS)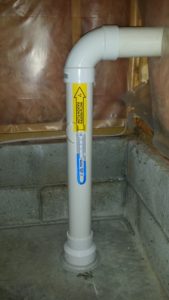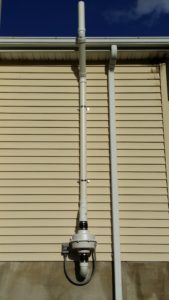 A Sub-Slab Depressurization System are installed in homes, buildings, businesses, schools or any occupiable building with a concrete slab floor. The radon mitigation system can be made up of various building materials that connects the slab and the extraction point for the radon or soil gas with a fan by design, that is mounted to the exterior and evacuates and draws the radon gas from under the concrete slab and exhausts it from the building.
The system works by creating a negative pressure under your home or building where the radon gas concentration is and through a designed extraction point. The radon fan must be mounted outside of the home or building and runs continuously to maintain continuous negative pressure to remove and continuously exhaust the radon.
Crawlspace Membrane Depressurization System (CMDS)
Crawlspace Membrane Depressurization Systems are installed and utilized in homes, businesses, schools and any occupiable buildings that have crawlspace(s). Typically, these are used for crawlspaces that have exposed earth, dirt, rock, gravel or severely damaged slab in the crawlspace area. This system is designed by encapsulating and sealing off the crawlspace area with a special membrane and draws the air and gas from under the membrane by use of a designed fan for exterior venting / exhausting. A radon fan is mounted outside of the home or building and runs continuously to maintain negative pressure to remove and exhaust the radon.
Passive Soil Depressurization System (PSDS)
Passive Soil Depressurization Systems are typically designed and installed for new construction. This is where a system is designed at the beginning of construction and can be installed and incorporated into the construction process and prior to the pouring of the concrete slab and routed through the building and encapsulated into the walls and floors, and exhausting through the attic and roof for a more non-abusive and concealing affect. These systems we design and install while working with your architect, engineers, builders, contractors and you the owner.  These systems require annual testing to ensure that the design is still functional.  (Photo to the left is a typical Radon Mitigation System in New Construction (RRNC) Project)
Passive Soil Depressurization System Activation (PSDAS)
Passive Soil Depressurization System Activations are installed in homes, schools, businesses or any occupiable building with an existing passive system.  When the radon level increases over time the system may require modification to bring the elevated radon levels back down to acceptable levels. The systems failure is corrected by incorporating a fan by design to resume the operating and functionality of the system to safe levels. This is converting your Passive system to an Active Soil Depressurization System (ASDS).
Heat Recovery Ventilation / Energy Recovery Ventilation System (HRV) (ERV)
HRV and ERV systems are designed to bring in continuous fresh air from outside and exhausting the contaminated air from inside. This could be used for radon gas or other particulates in the air. All systems are sized and designed for the home, school, business or any occupiable building to ensure the air you are breathing is safe.